GUARDIOLA WANTED TO JOIN ARSENAL - WENGER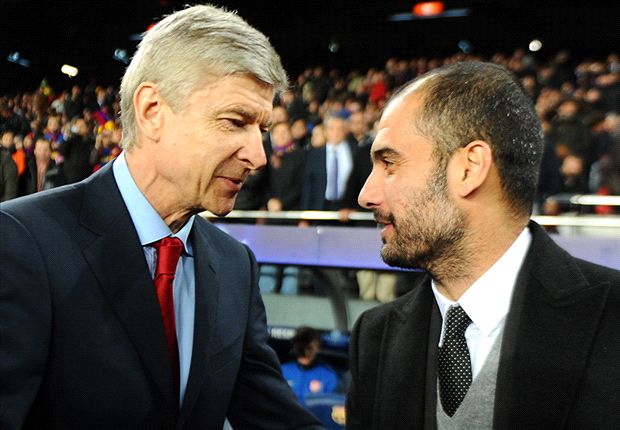 The Bayern Munich boss was keen on a move
to north London as a player back in 2001, but
joined Brescia after a move failed to materialise
Arsenal manager Arsene Wenger has revealed
Bayern Munich boss Josep Guardiola wanted to
sign for the Gunners during his playing days.
The 44-year-old was one of
Europe's outstanding defensive midfielders
during his time with Barcelona, before leaving
the club for Brescia in 2001.
But Wenger says Guardiola was keen on a
move to Arsenal, only for the Frenchman to
decide against pursuing a deal.
He said: "He wanted to play with me as a coach
and he wanted to play for Arsenal.
"I met him at home - he was 30 or 31-years-old
back then. I can't really remember but he then
went to Italy. I had players back then like
[Patrick] Vieira and [Emmanuel] Petit who were
still young.
"He showed great personality when we talked."
Wenger got the upper hand over Guardiola in the
first meeting between the sides in this season's
Champions League group stage, with the
Gunners winning 2-0 at the Emirates.
However, a close contest is expected in the
return fixture at the Allianz Arena on Wednesday
and the 66-year-old spoke of his respect for his
managerial counterpart.
"I admire that his teams play very positively -
he has a positive attitude towards football and
he's a great coach."
Related Article
Comment
.....................
Please
LOGIN
or
REGISTER
To Gain Full Access To This Article